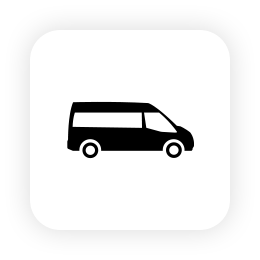 Fast & Efficient Uplift
---
No need to pedal to the top, our bus uplift fleet will transport you to the Summit of Myndd Gethin at 491 metres elevation so you can enjoy the amazing variety of world class descending trails we offer. Simply select the day you wish to visit and follow the simple process to purchase your day pass, we strongly recommend pre-booking.
---
View dates & book
PRICING & MORE INFO
Unlimited nonstop uplift during session
Full day pedal pass included
Unlimited access to 46 world class trails
PRICING
Monday-Friday = £48
Weekend Day & Bank Holiday = £50
Full Weekend = £100
Evening Uplift = £25
OPERATING HOURS
Monday: 10:00-16:00
Tuesday: Closed (apart from school holidays)
Wednesday: Closed (apart from school holidays)
Thursday: 10:00-16:00
Friday: 10:00-16:00
Sat & Sun: 10:00-16:00
Evening uplift: 17:00 - 20:00
PAY AS YOU GO
PAYG uplift service is available in limited quantities and can be purchased from the Visitor Welcome Centre on the day subject to availability. The PAYG service is open to pedestrians wishing to use the uplift as well as riders who have a valid pedal pass.
13 years old and over = £5 per run
10 years old and under = £3.50 per run*
* Riders under 10 years old receive a free pedal pass with a paying adult.
IMPORTANT INFO
Under 18's
Riders who are under 18 years old require a parent or guardian to complete the registration and acceptance of risk. Parents or guardians should be aware of and accept these risks and be responsible for the minor's actions and involvement. Children 15 years old and younger must be accompanied by a guardian at all times in the bike park and we suggest you check our MTB checklist to ensure their bike is suitable (child carrying devices are not allowed).
Winter uplift hours
During winter the uplift may have to finish slightly earlier due to poor light conditions.