The park is currently closed due to Covid 19 local lockdown restrictions. Click here for more info.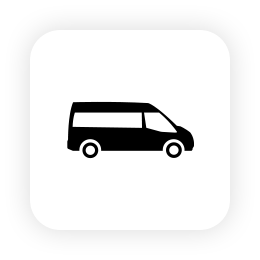 Fast & Efficient Uplift
---
Our bus uplift fleet will transport you to the Summit of Myndd Gethin at 491 metres elevation so you can enjoy the amazing variety of world class descending trails we offer. Simply select the day you wish to visit and follow the simple process to purchase your day pass, we strongly recommend pre-booking as day passes are seldom available on-spec.

By purchasing an uplift day pass (price includes trail access) you have access to the uplift service for the duration of your visit and are able to use the uplift service as many times as you wish, to maximise fun on the trails. Typically, day pass riders are able to complete 10+ runs in a day giving them as much as 3,000 vertical metres of downhill single track heaven.

Please remember that children aged 15 years and under must be accompanied by an adult at all times (including on the trails and on the uplift). If a booking is made for a person under the age of 16 you must notify BikePark Wales as soon as you book, notifying us of who will be accompanying them. There are no refunds if you turn up alone.

Our trailers have been adapted to take children's bikes with wheels 14 inches in diameter and larger. Please provide a valid mobile phone number when booking as we will need this to contact via mass text you if we have to close the park due to extreme weather conditions
---
View dates & book
PRICING & MORE INFO
Day Uplift Mon-Thurs = £41
Day Uplift Friday = £44
6 hour Uplift Weekends & Bank Holidays = £48
4.5 hour Uplift Weekends and Bank Holidays = £37
Weekend Uplift Pass = £92 (only available before 24th April and after 29th August)
Face masks are mandatory in the uplift vehicle at all times during the COVID-19 pandemic. "Snoods" are not permitted, passengers are required to wear fitted face masks, these can be cloth or surgical style.
The above prices include your £14 trail access fee
The prices above have been amended to reflect increased safety measures and reduced capacities during the COVID-19 pandemic
During the COVID-19 pandemic the pay as you go uplift provision is temporarily suspended
From April 24th through to August 29th we will operate two 4.5 hour uplift sessions each day on Saturdays and Sundays with smaller groups(Monday-Friday will be a single 6 hour session). The 4.5 hour sessions start at 9 AM and 2:30 PM and offer a great way to get a solid uplift fix and enjoy a few pedal laps too. 4.5 hour session passes include pedal access to the bike park for the full day.

Operating Hours
During school holiday periods BikePark Wales will be open 7 days per week, otherwise uplift operating hours are as follows:
Monday: 10:00-16:00
Tuesday: Closed
Wednesday: Closed
Thursday: 10:00-16:00
Friday: 10:00-16:00
Sat & Sun before April 24th:10:00-16:00
Sat & Sun April 24th to August 29th: Early session: 09:00-13:30 | Late session: 14:30-19:00