Everything you need to know before you visit BikePark Wales
---
Everything you need to know before you visit BikePark Wales
If you're a relative novice to the world of mountain biking, you might think that bike parks aren't for you. While we do have a number of trails at BikePark Wales that'll test the abilities of even the most talented riders, our all-new green-graded trail called Kermit is specifically for people new to the sport.
It's designed to give even novice riders a taste of what Bike Park Wales is all about, but without the high-speed and high-risk sections of the harder trails here – plus it's accessed by our uplift vans, so you can save you energy for having fun on the descent, rather than hauling yourself there in the first place.
Don't think it's not as much fun as the harder blue and red graded trails though – Kermit is actually the longest trail at BikePark Wales, measuring in at a full five kilometres and uses every metre of descending available. It's all fun and flowing singletrack too, so if your previous experience on a green trail has been a wide, flat and boring gravel path, then this is the real deal.
We've answered some common questions for anyone thinking about their first bike park experience, so read on for everything you need to know...
I've barely ridden a mountain bike before – is it something I can have a go at?
If you can handle a bike reasonably confidently on normal terrain, then we can probably help. While it's possible to turn up and ride, if you're a complete novice then you're going to be much better off with our Ticket To Ride package.
We'll take care of everything from a high-quality hire bike in the right size for you, plus all the protective equipment you need. You'll get two uplifts to the top of the mountain with a riding host who will give you tips and guide you through the whole experience – and there will never be more than six other riders with your host. Each session is 4 hours long, so you'll get plenty of riding time.
How fit do I need to be?
You'll need to be healthy, have a decent level of fitness and be able to handle a bike, but don't think that you need to be an elite athlete to give it a go. If you choose to use our uplift, you'll arrive at the top of the trail as fresh as a daisy regardless.
What kit do I need?
Well, if you choose our Ticket to Ride package, you just need the clothes that you're standing up in, but we also offer other packages where you can hire bikes and equipment from us and then choose whether to power yourself up or get on the uplift.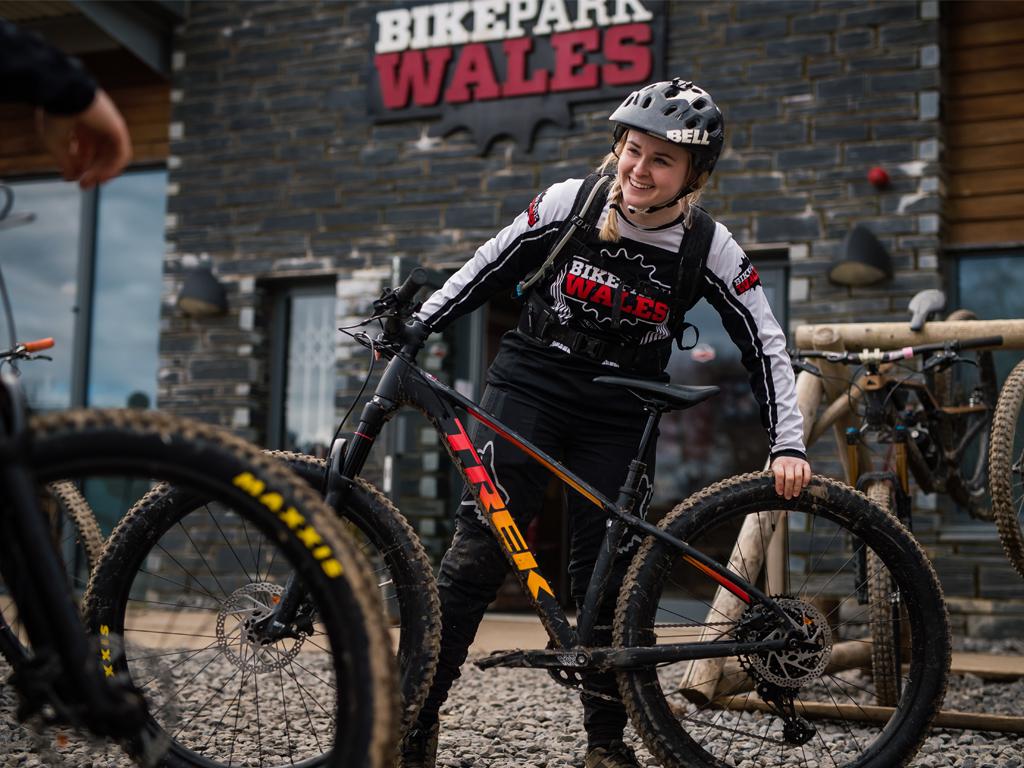 If you've got your own bike and kit then you're welcome to use that – but you will need a decent quality mountain bike and helmet. We strongly advise the use of body armour, goggles and a full face helmet.
Can the kids come along?
Yes, that's no problem as long as they're aged eight or over for the Ticket to Ride package, for all other packages there is no minimum age limit, we know quite a few experienced 4 year olds who rip! If you want to ride as a family, we do a special family Ticket to Ride deal for two adults and two children (you can add extras too), with high quality kid's bikes supplied as part of the package. We also have kids bikes available with our 'Uplift & Hire' and 'Pedal and Hire' packages if you would prefer to explore kermit at your own pace.
What can non-riders do?
There are plenty of things to do in the local area but if a non-riding partner or friend wants to stick around while you ride, our visitor centre offers hot food and drinks. We do allow four-legged friends in the area around the centre as long as they are on a lead, but not inside or on the trails.
Can I still come if the weather's bad?
The track surface is designed to be ridden in all weathers and we're set up to cope with everything the South Wales weather can throw as us, short of snow and very high winds. Check our weather warnings before you set off, dress accordingly and you'll be fine.
How long does it take to get down the track?
While our current record stands at ten laps in a day, it'll take from around 15 to 45 minutes, depending on how confident you are on a bike.
Will there be faster riders on the same trail?
It's possible that you might get caught up by faster riders when you're riding Kermit, but this is one trail where the slower riders maintain right of way - there are plenty of other trails in the park for hot lapping!
What makes the Kermit trail beginner friendly?
The short answer is an awful lot of time and effort designing and building it. The longer answer is that we've painstakingly set the route of the trail so that your speed is managed with careful changes of gradient that keep you rolling along without the speeds ever getting dangerously high, but still enough to be fun. We've given an awful lot of thought to risk management, taking nothing for granted when it comes to designing safety into the trail. That said, like most sports, mountain biking does have a inherent risk, so you need to do your part too...
What exactly does Kermit look like?
To help give you a better understanding of just what Kermit looks like we have a GoPro video here so you can see exactly what it's like before you visit. You can also take a look at all 40 of our trails here.
What do I need to book before I visit?
We have a few different packages available for you to book, from our all-inclusive Ticket to Ride to just the essentials. Click the links below to find the best package for you;
If you have any questions dont hesitate to get in touch, we're here to help!
---